Published on
Sentry Points of Presence: How We Built a Distributed Ingestion Infrastructure
Authors

Name

Twitter
Event ingestion is one of the most mission-critical components at Sentry, so it's only natural that we constantly strive to improve its scalability and efficiency. In this blog post, we want to share our journey of designing and building a distributed ingestion infrastructure—Sentry Points of Presence— that handles billions of events per day and helps thousands of organizations see what actually matters and solve critical issues quickly.
Space is Time
Historically (both before and after Sentry infrastructure migrated to Google Cloud Platform) all Sentry SaaS servers have been located in a single region somewhere in North America. This meant that users and servers transmitting events from the other side of the globe (e.g., Australia or India) were sometimes experiencing end-to-end latency as high as 1 second. Europe fared better (~450 ms,) but this still paled in comparison to events sent from within the continental US (a respectable ~150 ms.)
Ideally, Sentry SDKs should add as little overhead as possible, and that's not feasible with a component in your app that regularly makes requests with 500-1000 ms of latency. Besides tying up system resources, on some platforms, this latency could have the seriously negative consequence of blocking all app execution (e.g., PHP, which is single-threaded and synchronous).
Additionally, after a request has been sent by the SDK, it has to make its way through the chaos of the public Internet, traversing wires we have no control over. And, after traveling all that distance, the event might be rejected or dropped because of exhausted quotas, invalid payload, inbound filters, or a number of other valid reasons. Which means the client application could wait for a full second just to learn the data was never ingested.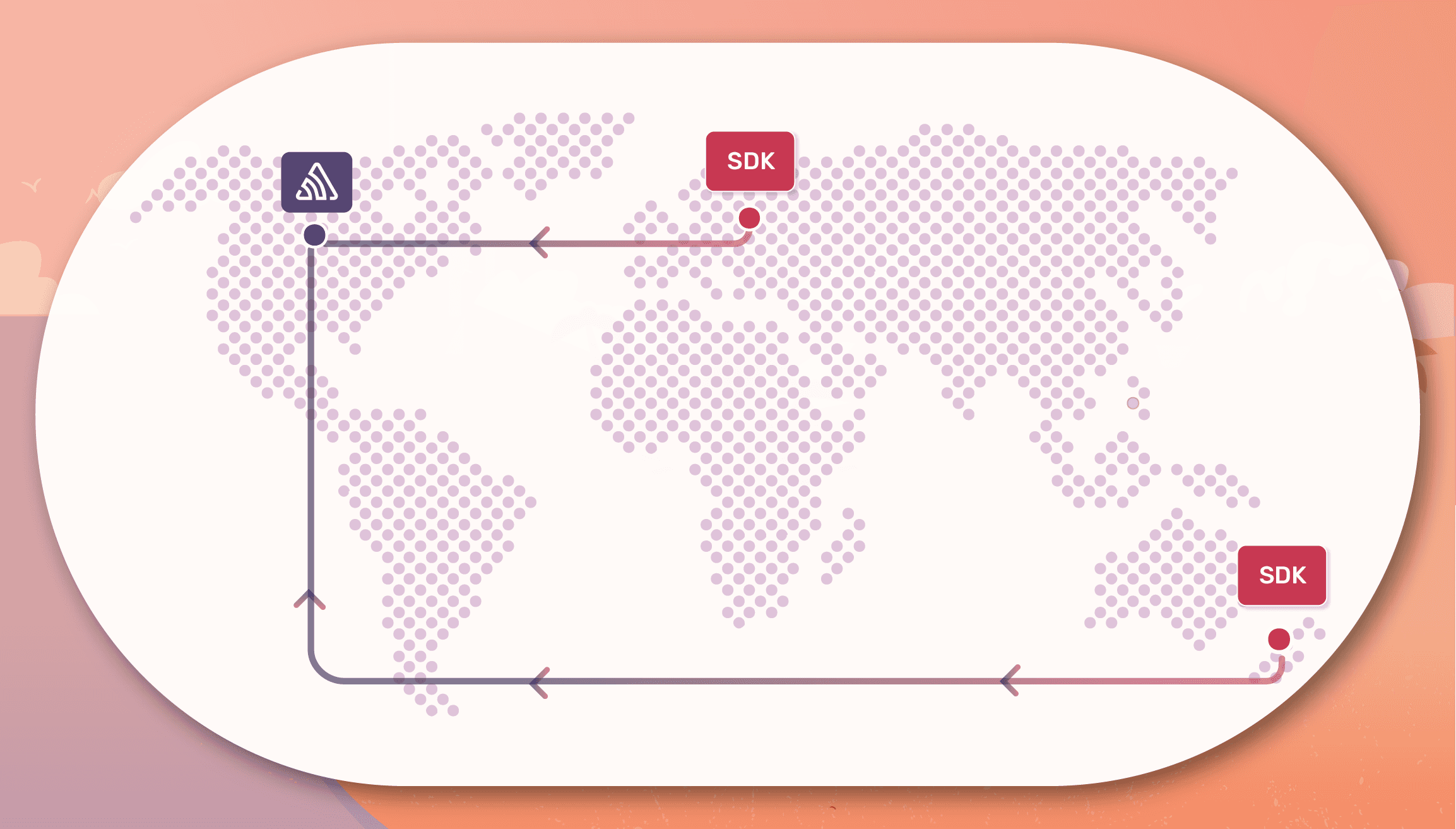 Sending an event with Points of Presence
Here are the most important components that shaped the final Points of Presence solution:
When connected together, these components form the following architecture: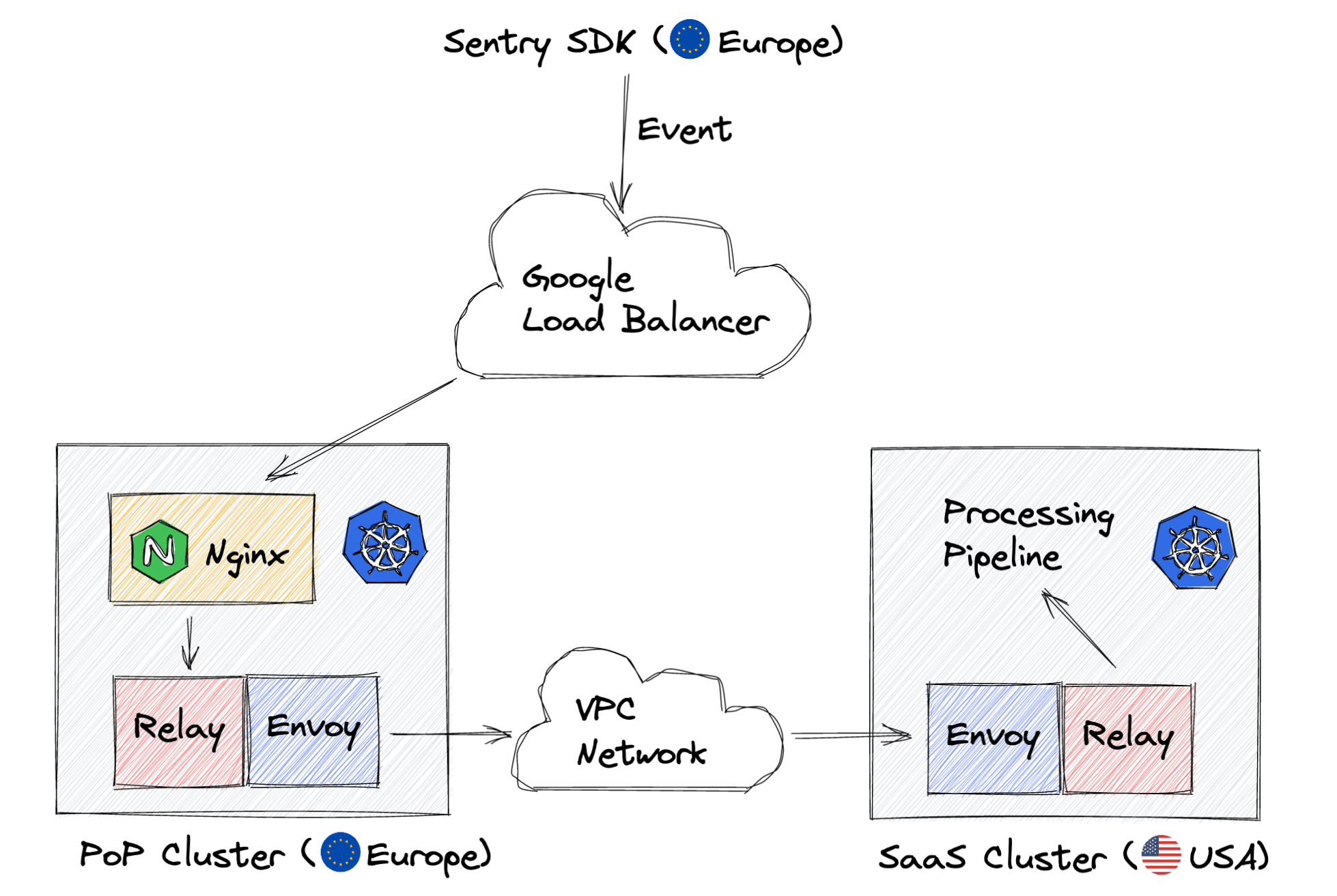 Showtime
The tricky thing about rolling out this exciting new infrastructure was that we had to preserve backward compatibility and keep supporting all the ingestion features and protocols we had in the product. And while lots of things can be checked and caught in development and testing, at some point, your infrastructure has to start handling production traffic.
Given the scope of the task, here's what we did to prepare:
Now to the rollout itself:
Some challenges and lessons from the rollout included:
What Success Looks Like
Unlike most of the product features we release at Sentry, our goal with deploying PoPs was to make it as frictionless and invisible as possible for our users—basically, just giving a free performance boost for most users without any required client-side changes.
With all the ups and downs of the lengthy rollout, the main questions that we had to answer were: what about all those numbers of milliseconds we were so unhappy about? Were all the troubles worth it?
Overall, the average response time around the globe dropped from ~500 ms to ~80 ms. And here are some examples of the response time changes for a few selected client locations:

Requests from most European locations can now boast sub-100 ms response times, while the most remote locations (Asia, Australia) are within 100-200 ms now, depending on the proximity to the PoP regions.
Needless to say, it was truly an awesome feeling to see all those lines going down.
Are You Covered?
If you configured your Sentry SDK in the last 18 months or so, you most certainly already reap the benefits of the new ingestion infrastructure. However, some older clients might still be using legacy configuration that doesn't utilize the full power of PoPs. To make sure that all your Sentry events are handled by the Points of Presence infrastructure, check whether you use an up-to-date DSN in your app.
Do you currently use a DSN that contains the legacy @sentry.io/ part? If so, please update your SDK configuration to use the current DSN from your project settings: go to Settings -> Projects -> Client Keys (DSN) in your Sentry account, and there you'll find the up-to-date DSN value that will route your events through the closest Sentry PoP. The same recommendation applies also to the other types of client keys (for example, security header endpoint and minidump endpoint.) Their relevant values can be found on the same settings page.
Powered by Magic of Engineering
The PoP project was a joint collaboration between Ingest and Operations teams at Sentry, and we are very happy with the results. It was the first major step towards making Sentry infrastructure truly distributed and highly efficient—but it's certainly not the last.
Would you like to be part of our next scaling project? We're hiring for SRE and other roles across the company.